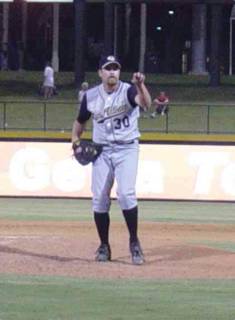 The Great Tim Rall

2.56 ERA, 43 SO/38.2 IP
We are enjoying our L.I. visitors very much. Thursday night at the Rough-Riders game, I finally got to see the fine work of the deceptive Long-Island lefty, Tim Rall. His brief appearance was enjoyed by all, especially his brother Marty, who by the way, has quite an extensive repertoire of insults for umps and opposing team members. It was a lot of fun, and Tim is continuing to do well. In fact, he said he isn't shaving his beard as loong as he continues on this good streak, and if all goes well, he will look like a member of ZZ Top before long (the one with the reddish beard...which one is that?).
It's quiet time for me at the moment, because some recording is being done in the other room. Kev's sister is doing some clarinet work on our most recent song, and it sounds pretty good so far. Later, PPHPHB veteren guest vocalist, Julie, is coming over to help out with some back-up vocals. This gives me time to read and blog briefly.
Tonight is another baseball game, and hopefully we'll get to see Tim make another appearance. I'm gonna get back to my book now. I am reading Kev's copy of "The Great Brain" because I have been forbidden to buy myself any new books until after my birthday. It's pretty good for a kid's book. Marty's in the other room reading Harry Potter. I am jealous that he's still reading it. I should have paced myself. It's always sad when it's over.